The recommended installation of a 2Bsure Twin system is on the shoulder straps of the harness to maximize the ability of the vests to keep a unconscious pilot's head above water. The 2Bsure is our prefered system for PPG.
All Water sensors for should be replaced annually to ensure moisture absorption from the air or wet grass etc does not  cause a unexpected inflation.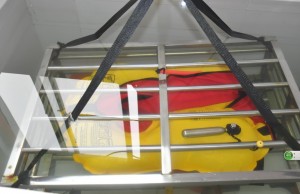 Bouyancy testing
Computerized sewing.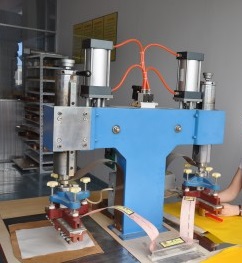 vest welding
Inflation testing for 48 hours.
Unique custom fit for PPG frames
.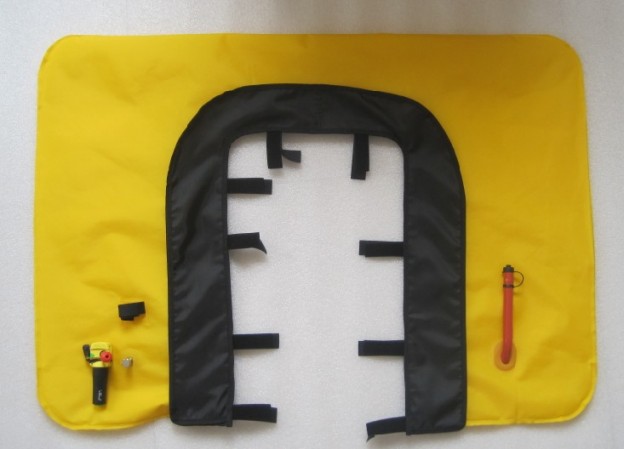 New color in stock for the inner vest, still the same quality and auto/manual inflation.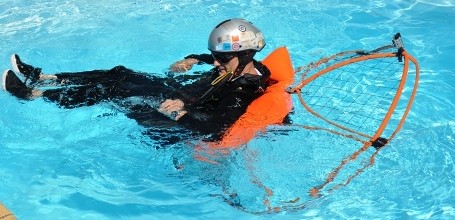 Additional flotation for even the biggest pilot and engine.
Image above shows a inflated Powerfloat on a PPG frame. Biggest volume on the market.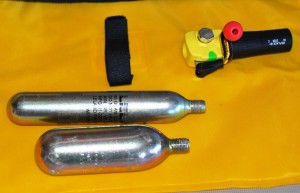 A 70 Co2 gram is standard for the U shape vest
Automatic and Manual inflation unit.
Powerfloats ready for shipping to our dealers.
Above are the 2Bsure twin system vests designed for Powered Paragliders and Paragliding to fit on a free flyers shoulder straps and the larger 2Bsure XL designed for trikes, hangliders and powered hangliders to be fitted on the up rights. The standard 2Bsure has twice the flotation of a normal life vest and teh 2Bsure XL has 6 times the flotation of a normal life vest. Extra volume extra lift.
The 2Bsure installed on the shoulder straps of a Paraglider harness, with Twice the flotation of a normal 150N life vest the two piece system gives added security and added flotation to counter the flotation of the harness to flip a pilot onto there back. The set or pair weight 398 gram including the Co2 canisters.
Images above show how a 2Bsure is attached to a Paraglider harness with the webbing and Velcro onto the shoulder straps, excess webbing and Velcro can be trimmed as needed.
Automatic and Manual inflation.
2Bsure XL vests are two Pieces, this larger size is for PPG, Hangliders, Trikes, Powered Hangliders and Powered Parachutes, images showing one half installed on a standard PPG frame, this is an option for frames where pilots can not fit a U shape vest or need added security of the twin system.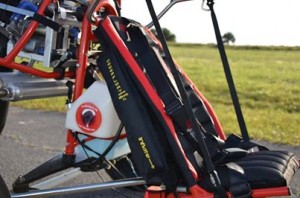 2Bsure XL mounted on a Fresh Breeze trike.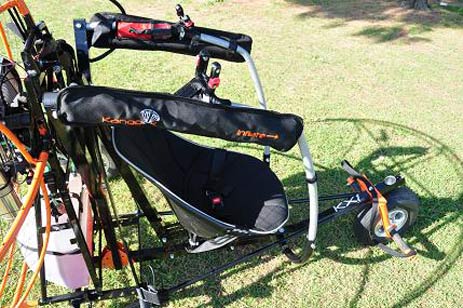 2 piece flotation system fitted on a trike, there are numerous options on where you can fit the system and more than one set can be added if needed. separate automatic/manual inflation gives added security. The additional volume is twice that of a U shape vest.
Above is a series of images showing the flotation system as it can be used on a hanglider the choice being on the uprights or on the harness itself depending on a pilots preference.
 Photos of a 2Bsure with Phil Jennings on a Zenith
Photo's above show Dean Eldridge Sporting his 2Bsure vets while island hoping.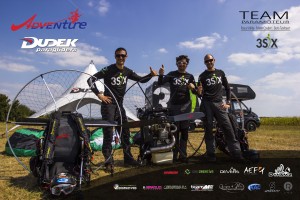 Team Paramotor with there 2Bsure Vests.
U shape vest and a 2Bsure shown fitted to an Air Conception frame.
I survived limited edition T shirt, available to pilots that send me a story or video about there water landings.
Image shows an inflated one half of a 2Bsure, 2 piece vest.
2Bsure vest
a Packed 2Bsure Vest 1/2 of a pair. One half has the same volume as a normal 150N life vest or a Agma, so the pair has twice the volume and flotation.
How to install your U shape Powerfloat Video
Why I Fly.
http://www.youtube.com/watch?v=4Vcl6ZvO080&feature=youtu.be